During her visit, which concluded on Tuesday, Ms. Mohammed held a number of bilateral meetings with senior government officials, including President Guðni Th. Jóhannesson, Prime Minister Katrín Jakobsdóttir, and the Minister for Foreign Affairs Thórdís Kolbrún Reykfjörd Gylfadóttir. 
"We must not give up. Times of distress call for courage, solidarity and determination. It starts at the Imagine Forum," the Deputy Secretary-General said in a tweet referring to the Nordic Solidarity for Peace event she attended in Reykjavík on the last day of her visit.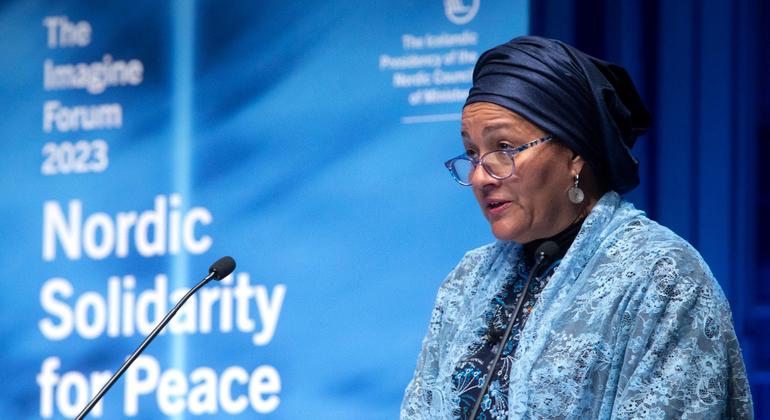 Persevere for peace
At the Forum, she also stressed that the rise of conflicts and unsettling developments of the last few days should not be a reason for the international community to give up but rather stepping up to restore peace.  
Ms. Mohammed outlined that creating a peaceful future for all requires doubling down on sustainable development and reinvigorating multilateralism. Among other things, she underscored the need to end the wars across regions and on nature, which is exacerbating conflicts and challenges.
In her engagements during her visit, Ms. Mohammed highlighted the role of Iceland – as well as the wider group of small States – in advancing multilateral solutions to key issues facing the world including climate change, global peace and security, and the need to reform the international financing architecture to better service people and the planet. She also exchanged views on these issues with parliamentarians and young people.
Climate change impacts
Ms. Mohammed visited areas affected by the climate crisis, including Iceland's second largest – and fast-melting – glacier, Langjökull, and its ice cave.  
With less than two months until COP28, she called for action for those on the frontlines of climate change.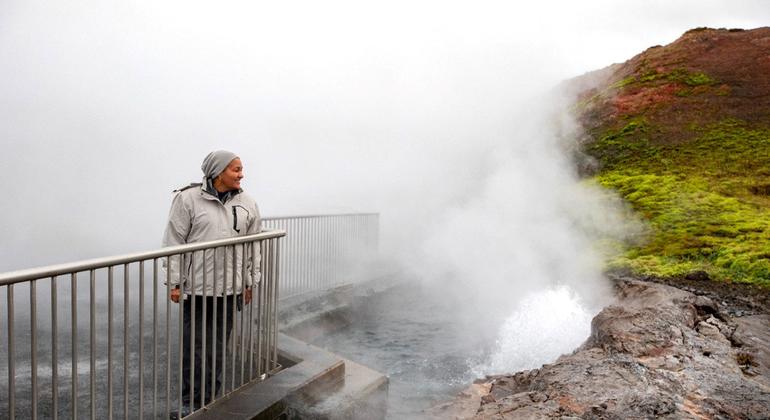 She also visited Deildartunguhver Hot Spring, which is the most powerful hot spring in Europe with a flow rate of 180 litres (50 gallons) of water per second at a piping hot 97°C (200°F).
The Deputy Secretary-General also visited the Hellisheiði Power Plant, an immense geothermal power station, which is among the most significant single-site power plants globally, generating both electricity and hot water for household purposes.  
Ms. Mohammed left on Tuesday for Marrakech, Morocco, for the Annual Meetings of the World Bank and International Monetary Fund.