Russia declines UN request for aid access to areas flooded by Ukraine dam breach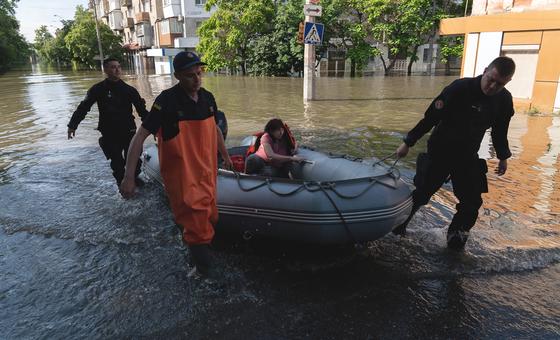 The destruction earlier this month of the Soviet-era dam and hydroelectric plant in an area reportedly under Russian control since its invasion in 2022, has caused widespread flooding across southern Ukraine, washing away homes, destroying sanitation and sewage systems and crippling water supplies.
In a statement, Humanitarian Coordinator Denise Brown vowed that the UN would press on with relief efforts, "and do all it can to reach all people – including those suffering as a result of the recent dam destruction – who urgently need life-saving assistance, no matter where they are."   
The UN would also continue to engage to seek the necessary access. 
"We urge the Russian authorities to act in accordance with their obligations under international humanitarian law," she said, adding: "Aid cannot be denied to people who need it."
The emptying of Kakhovka Reservoir has left tens of thousands of people in southern Ukraine without access to piped water, mainly in the Dnipro region. 
The reservoir – one of the largest in Europe – is reportedly 70 per cent empty, according to Ukrainian authorities. 
The width of the reservoir has also decreased from three kilometres to one, while the water level is now at around seven meters, well below the 12-metre operational threshold, the UN's main humanitarian coordination wing, known as OCHA, reported at the end of last week.